There's no denying that, for the majority of the print industry, the current climate is a massive challenge. But it's not all doom and gloom – there are fantastic opportunities to be taken.
Many print companies have been dealing with the initial consequences of the global climate.
Furloughed staff. Reduced trade. The search for new sources of production and revenue. These are all complex situations that you may have had to restructure your practices around.
But, if it feels like you're just treading water, there may be a few things you can do to get things flowing again. If not for their immediate impact, then definitely for a brighter future.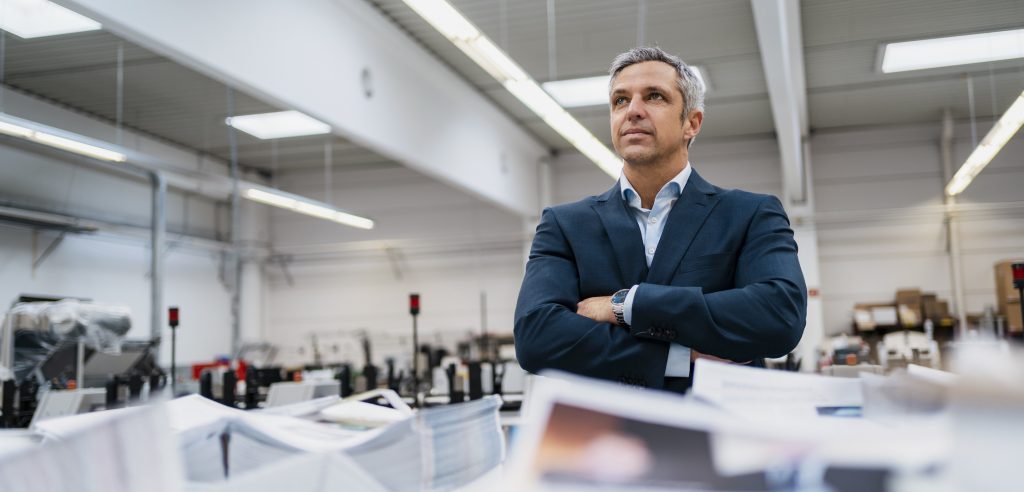 Connect with your customers
It's somewhat ironic, but isolation has brought many people closer together. And this can be the same for you and your customers.
First of all, check-in with how they're doing. Empathise with them. And learn about the struggles of their business. You might learn something useful in return – such as how to market yourselves, or how to adapt your services to supply businesses in their 'new normal'.
Therefore, this is your opportunity to really build trust with your existing clientele. You'll also develop a reputation for providing good solutions – which in turn could help you find new customers.
Review your current practices
A little self-reflection can go a long way towards making your business stronger in the future. And now's the time to do it.
If you could roll back the clocks and prepare for the current climate, what would you do?
One area which can have a significant impact on your business performance is the operational and manufacturing processes you adhere to. Adopting a lean manufacturing approach to how work is progressed through your business and how your wider team operate will quickly transform capacity, revenue and margins simultaneously.
For example, our business team worked with print evolved, London based digital print business to assess operational performance. The results can be seen by watching this video case study.
Business Resilience
Quieter periods will provide a unique opportunity to evaluate marketing strategies. This then provides a clearer understanding of how print can be sold as a value add to existing and new customers.
Successful businesses make business resilience part of their DNA. It's all about planning for the unexpected with solutions that are flexible. And encompassing frameworks that enable rapid response to changing situations.
And what about things like your processes and workflows?
This is your opportunity to work more efficiently and cost-effectively when production picks up again. Consider implementing tools like Ricoh's TotalFlow Production Manager – an ideal way to optimise sheetfed printing.
Collaborate with your partners
Of course, the current climate isn't just affecting the print industry.
Everyone is going through the same thing, which means there are bright minds in every sector looking for solutions. So, there's a lot of very useful and interesting content out there to help you.
The main thing is – you aren't alone. Work with trusted people to exchange ideas. Collaborate with other businesses for mutually beneficial cross-promotions, discounts and special offers.
With this in mind, this is your opportunity to join forces with others and empower your communications, widen your target audience, cut marketing costs and produce more compelling content.
Engage with your community
It's important to show that your business is taking part in your local community.
The collaborative sentiment pervading society extends well beyond individuals. Organisations are expected to contribute. And this is a good thing, as doing so will provide both short and long-term benefits.
Look out for chances to get involved in charitable work. Offer your services to under-pressure industries. Increase awareness of your brand with positive messaging. And let people see that your company values compassion.
Therefore, this is your opportunity to apply a human touch to your business and engage with customers new and old in a relatable and compelling way.
Ricoh's Printed Memories initiative
Ricoh's Printed Memories initiative is a fantastic example of something to get involved with. It's creative, worthwhile and supports a good cause – Alzheimer's UK.
It's all about making good use of your excess capacity, while obtaining value for your employees, your business and everyone connected to it. Additionally, being a bespoke process enables to scale up or down depending on your capacity at any given time.
Ricoh are best known as a manufacturer for multifunctional devices. However, their product portfolio covers everything from small desktop printers to large production devices for reprographic environments.